Title: The Deal (Off-Campus #1)
Author: Elle Kennedy
Genre: Sports & Games, New Adult, Romance
Page Count: 342
Blurb: She's about to make a deal with the college bad boy…
Hannah Wells has finally found someone who turns her on. But while she might be confident in every other area of her life, she's carting around a full set of baggage when it comes to sex and seduction. If she wants to get her crush's attention, she'll have to step out of her comfort zone and make him take notice…even if it means tutoring the annoying, childish, cocky captain of the hockey team in exchange for a pretend date.
…and it's going to be oh so good
All Garrett Graham has ever wanted is to play professional hockey after graduation, but his plummeting GPA is threatening everything he's worked so hard for. If helping a sarcastic brunette make another guy jealous will help him secure his position on the team, he's all for it. But when one unexpected kiss leads to the wildest sex of both their lives, it doesn't take long for Garrett to realize that pretend isn't going to cut it. Now he just has to convince Hannah that the man she wants looks a lot like him.
Rating: ★★★★★
---
My Thoughts
5 'dumbass/jackass' stars!!

I thought the hype for this book would be overrated, but boy was I wrong !!! THIS BOOK MAKES ME HAPPIER THAN CHRISTMAS DAY, IF I WAS WALKING DOWN THE AISLE ID HOPE, I WAS SAYING "I Do" TO THIS DAMN BOOK, AND IF I HAD A SON RN HIS NAME WOULD BE GARRETT JR. NAMED AFTER HIS FATHER OF COURSE (get what I'm saying *wink* *wink*), 'THE DEAL'??? THIS BOOK SHOULD BE CALLED "THE DEAL? THE DEAL IS THAT IM IN LOVE WITH GARRETT"! But yeah, the book was alright…
I never expected her. Sometimes people sneak up on you and suddenly you don't know how you ever lived without them. How you went about your day and hung out with your friends and fucked other people without having this one important person in your life. – Garrett
This story starts off from Hannah Wells POV & Hannah has dealt with hard times in her life (so has **soon to be talked about** Garrett) but as the story begins, we see she's crushing on the popular football player that attends their college. You'd think that's where this story leads to, Hannah and the football player? But, nope. The story leads into her being the only one getting an 'A' on the midterm that 99% everyone else failed in her class, including Garrett Graham.
Me? I aced it. And I'd be lying if I said the big red A! circled on top of my midterm hadn't come as a complete shock. All I did was scribble down a never-ending stream of bullshit to try to fill up the booklet.
Who's Garret Graham? A tad bit mad I have even explain this because cmon Garrett Graham *heart eyes*! He's that guy that you wish to change for you but you know it won't happen because it has to take someone INCREDIBLY unique for that to even happen. He's also the star Hockey player that every guy wishes to be & every girl wishes they could have? He comes off as the dumb jock but is too everyone's beliefs intelligent. He fails the midterm which leads to Garrett trying to get Hannah to be his tutor. He desperately needs to Ace the makeup test because if Garrett needs to keep his GPA in check or he won't be able to play & well, he NEEDS to play.
Case in point – Garrett Graham, the other star athlete in this class. Dude walks around like he own the place. I guess he kind of does. All he has to do is snap his fingers and an eager girl appears at his side. Or jumps into his lap. Or sticks her tongue down his throat.

Garrett & Hannah have never spoken a word to each other until Garett tries begging Hannah to be his tutor. Hannah refuses just because she knows the type of guy Garett is. Garrett is the god of the school but Garrett's never noticed Hannah before until the day the exams were issues back (jerk.. a hot jerk, though). What he doesn't know is that Hannah isn't like other girls. She doesn't fall for Garret's charm, looks, sweet defined abs, sexual comments, sarcasm, or smart ass comments but doesn't every bad boy love a challenge? Garret is determined to change that just so he can't let his teammates, coach, school, and his.. father down but he's never challenged a girl like Hannah before. Garret offers Hannah a deal but sometimes, the bad boy just doesn't always get what he wants.. that easily 😉
"How about a date?" I offer.
That gets her attention. She straightens up like someone shoved a metal rod up her spine, then swivels her head in astonishment.
"What?"
"Ah. I've got your attention."
"No, you've got my disgust. You actually think I want to go out with you?"
What I adore adore adore is that the fact is that they do become friends, and I love their friendship. Garret, tells her the raw truth, and she accepts and appreciates it. Hannah, tells him the cold truth, and he recognizes and appreciates it but coming from a female it means a lot more to him since he's used to girls always trying to bone him. I liked them a lot as friends (love how they call each other 'dumbass' & 'jackass' lmao) but,
"I'm glad." His voice thickens, and he clears his throat before continuning. "I want you to have a drink tonight."
I stiffen. "What? Why?"
"Because I think it will be good for you."
'So, wait, that's why you invited me to Dean's thing tonight?
I say sarcastically. "To get me drunk?"
"No." Garrett shakes his head, visibly frazzled. "To help you see that it's okay to let down your guard sometimes. Look, I'm the DD tonight, but I'm offering to be more than just your driver. I'll be your bodyguard, and your bartender, and most importantly, your friend. I promise to look out for you tonight, Wellsy."
AND
"I will allow either of those options." He glares at me. "But you are not, under any circumstances, allowed to watch Breaking Badwithout me."
"Fine, I won't."
"Promise.."
I roll my eyes. "I promise."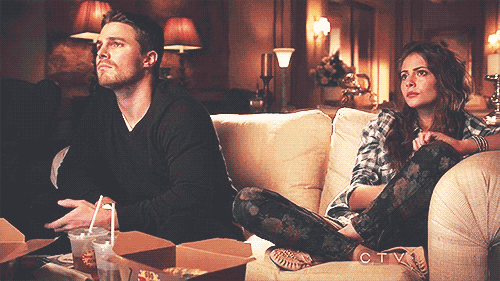 I LOVED them even more as an item (or when they started realizing their feelings). They respected one another. They wanted to see each other succeed. He accepted her past and present. She accepted his past and present. They also keep each other on their toes and they push each other out of their comfort zone. The banter between them is hilarious. I look forward to it on every page, and it's like God answers my prayers because almost every page you read them bickering and arguing over the littlest things but will have you dying of laughter. I live for Hannah's snarky comments towards Garrett & I live for Garrett's cocky attitude or boyish grin. What more could you want from a couple? Hannah & Garret will have you having imaginary their future babies names, smiling so hard your cheeks hurt, laugh at the banter between them & wishing you were Hannah so that you could have a taste of Garret yourself.
They'd go from fighting:
She simply keeps glaring at me. "You invoked a campus-wife hands-off law? Are you kidding me?"
I'm not at all remorseful as I meet her eyes. "Of course I did."
"Oh my God. You are unbelievable." She shakes her head in disbelief. "Who does that, Garrett? You can't go around and tell all the guys at this school that they're not allowed to touch me or you'll kick their asses!"
"I didn't tell all the guys. Do I look like I have that kind of time?" I flash a grin. "I told a few key people and made sure they spread the word."
"What, If you can't have me no one else can?" she says darkly.
I snicker. "Well, that's just insane. I'm not a psycho, babe. I was doing it for your sake."
Her jaw drops. "How the hell do you figure that?"
"Because you're in love with me, and you don't want to date anyone else. But see, I was afraid your stubborn self would try to do it just to back up your cover story, so I had to take some preventative measures." I promise my forearms on the stall door. "I knew if you went out with anyone else you'd end up regretting it, and then you' feel like an ass when you finally came to your sense, and, well, I wanted to spare you all that pain and suffering. You're welcome."
To protecting each other:
"Cass, have you met Garrett?" I ask politely.
He warily turns back to the tall, strapping hockey player at my side. "Naah, I haven't. Nice to meet you, man."
"You too, Chazz."
My duet partner stiffens. "It's Cass."
Garrett blinks innocently. "Oh, sorry-wasn't that what I said?"
Cass's nostrils flare.
"So I hear you're singing a duet with my girl," Garrett adds. "I hope you're not giving her any trouble. I'm not sure you know this, but my Han-Han has a bad habit of letting people walk all over her." He arches one dark brow. "But you wouldn't do that, right, Chazz?"
Despite the pang of embarrassment his words evoke in my, I'm also fighting hard not to laugh.
"It's. Cass."
"That's what I said, no?"
There's one long moment of very obvious macho posturing as the two guys stare each other down. As I expect, Cass is the first to break the eye contact.
To pleaseing one another: 😉
I have to bite my lip to stop from making noise, because what he's doing to me.. holy mother of pearl. So. Good. He circles my clit with his tongue, then licks it in soft, slow strokes that drive me absolutely wild with desire
I WANT MY OWN GARRETT SO BADLY THAT IT HURTS! He was added to my book boyfriend so quickly that I feel overly territorial over him so that being said, he's.mine. You don't come across a guy like Garrett that over so when you do, stare, drool, and pounce on him like a damn spider monkey and never let go. This is my advice to you, Hannah, because if you're not going to take it, then you better watch out before I take my own advice, understood? The scene when he spoke to Cindy, I shed a tear. Everyone knows I'm a sap for those type of things. I honestly felt my heart got 10x bigger for Garrett after that scene.
"And two, if you ever need anything, anything at all. I want you to call me, okay?"
Side Note:
The Epilogue:

This book brings me to all types of feels and happiness. I could probably go on a jog right now with a smile on my face. I loved this book tremendously. One of my favorites and I'm disappointed in starting this series so damn late. If you haven't read it yet, don't be like me and drag this on your TBR list. Get your fingers clicking and order or buy this fantastic book RIGHT. NOW. Have a beautiful day & if you're not having a nice day, and you haven't read this book… well that could be the reason why 😉
Review on another book in the series:
**SOON TO COME Review on another book in the series***